Drexel Hill, PA Title Insurance Services
Philadelphia Abstract Company
Philadelphia Abstract Company provides you with professional title insurance and financing services in Drexel Hill, PA. Since 1958, we have been helping our clients with their financial security issues by providing hassle-free solutions. Call us today.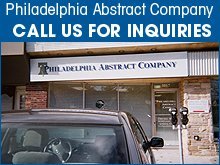 Learn More About Philadelphia Abstract Company:
Title insurance services
Refinancing
Buying services
Contact Philadelphia Abstract Company today at 610-624-4112 for professional title insurance services. Call for professional title insurance questions or for a quote.
You can also e-mail us at johnmcgowan@philadelphiaabstractco.com.